Message from the President
Believing that science and technology are our very lifelines, we aspire to be a company worthy of being called the world's best manufacturer.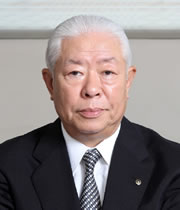 Since its establishment, Tokuden has maintained its independence and has functioned as a public organ to contribute to the development of industrial technology to stay on the forefront of each era.
Our fundamental principle of company management is to deliver technological contributions to a technologically-advanced, industrial society by creating better products and by always holding the creative spirit in high regard. It follows that our basic modus operandi is to produce small quantities of a variety of items in direct response to orders. Our operation is comprised of made-to-order manufacturing activities tied together by product engineering plans that allow us to conform to individual client specifications.
More and more offshore manufacturing facilities have been appearing in recent years, and there is an intense current drifting toward compartmentalizing structures according to the types of items produced. As a manufacturing enterprise that provides manufactured goods in this tumultuous, global era, we have become keenly aware of the increasing importance of focusing technologically-intensive manufacturing activities at a domestic production base.
In order for us to continue independently developing new technology that helps society, it is absolutely critical for us to verify quality that is credibly backed by product testing processes as well as technological and theoretical analysis. It is not unusual at all for it to take many years for us to know whether or not the product technology we develop is genuinely being used widely as industrial technology.
Developing technology is a long, lonely process that involves a lot of groping around for the way forward followed by countless 'baby steps'. It can hardly be called an efficient process. However, we refuse to be 'just another manufacturer' and can do nothing else but strive to perform with great awareness and vision.
We at Tokuden believe that science and technology are our very lifelines, and we want to become a company worthy of being called the world's best manufacturer.
Yoshio Kitano, President