Changeable embossed sleeves reduce costs, boost efficiency
Each different pattern in a nonwoven fabric requires its own costly embossing roll. Tokuden's innovative Sleeve Jacket Roll helps cut these costs by requiring that only the roll cylinder (or sleeve) be changed, rather than the entire roll, to accommodate a product changeover. The Sleeve Jacket Roll and a variety of embossed sleeves provide a quick, efficient, cost-effective solution to multi-product manufacturing.
Structure of Sleeve Jacket Rolls
Features of Sleeve Jacket Rolls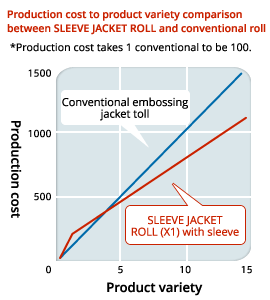 Outstanding cost-performance
Because the Sleeve Jacket Roll package includes a changeover cradle and other parts, it is slightly more expensive than a conventional Jacket Roll. However, one Sleeve Jacket Roll and two spare sleeves cost less than three conventional Jacket Rolls. The more spares required, the greater the cost savings.
Fast changeover
The embossed sleeve is easy to change. Simply set the Sleeve Jacket Roll on the changeover cradle, slide the carrier on which the sleeve sits to detach the coil section, and fit the spare sleeve in place. The entire process takes about one hour.
Main application
Non-woven embossed calender
Products